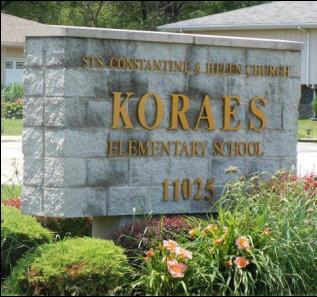 Koraes Elementary School was founded in 1910 under the auspices of SS. Constantine and Helen Church as a Greek-American parochial school. At Koraes, our primary goal is to promote intellectual development, reinforce cultural awareness and social responsibility, and foremost, to inculcate the moral and ethical values of the Orthodox Christian faith. Our students are prepared to think critically through a challenging curriculum, communicate effectively, participate in a student-centered language arts program, persevere through mathematics and science, study history and act independently in preparation for life in a complex society with an accelerated rate of change. All students are taught the Greek language through our differentiated approach to learning a foreign language. Our staff differentiates Greek language instruction to meet the needs of our various learners.

We offer a complete elementary school program for grades kindergarten through eighth. The school is registered with the State of Illinois and as a fully recognized by the Illinois State Board of Education, the Greek Orthodox Archdiocese, and the Ministry of Education of Greece. As a fully recognized school of the State of Illinois, we agree to comply with any/all applicable state or federal laws or regulatory requirements.

The school also offers a prekindergarten (preschool) program for children 3 years old and above that incorporates the flexibility for children to attend 3-5 days a week (half day or full day) while our kindergarten program is a full day program. We offer before and after school care for working moms and dads, afternoon clubs and Ellinomatheia preparation as an extra part of the school day. Our students in grades 3-8 participate in a 1:1 technology initiative using Chromebooks.

All of our programs are provided in a safe, nurturing, faith and family based environment. Graduates of Koraes move on successfully to the premier public and private high schools in the area and go on to challenging and rewarding careers when they finish college. Lifelong student and family relationships are cultivated during your years at Koraes.

​We welcome families of all Eastern Orthodox traditions. Tuition at Koraes is affordable to allow all Orthodox families to benefit from their children receiving a solid, religious based private parochial education during their formative years.
What we believe

Koraes exists to provide a rich, educational environment that gives children a spiritual and moral compass to live a good Orthodox Christian life.


Our mission

Our mission is to prepare students with the necessary academic foundation that allows them to reach their highest level of success. Together with our families, we provide spiritual and moral guidance from an Orthodox Christian perspective that focuses on values and instills a feeling of confidence, respect and well-being in every child.

Koraes accomplishes its mission by:
By providing a safe, family environment that fosters life-long friendships between students and families who attend Koraes and share the same values.
By teaching at school, the same values that are taught in the home.
By focusing on developing child's moral and spiritual character throughout their school day by teaching them to be respectful, disciplined, engaged and mindful of God's presence in their lives while providing them with a good education.
Our History
Koraes School, as it was once known began with few resources beyond the vision and courage and Orthodox faith of its founders. With the support and dedication of the community of SS. Constantine and Helen Church, Koraes Elementary School was founded in 1910. It has remained in continuous existence for over 100 years and is currently the second oldest in the Greek Orthodox Archdiocese.

During the formative years, Koraes School, patterned after the provincial schools of Greece, taught English as a foreign language. However, education held the key to unlock the pathway to success for young Greek children and it soon became apparent that the students needed to become proficient in English. In 1922, Koraes laid the groundwork for today's school ideology teaching students to think critically through a challenging curriculum, and to communicate effectively through bilingual a language arts program. Additionally, in 1922 the Chicago Board of Education accredited Koraes School because the revamped curriculum that included more English.

The afternoon school was organized in 1923 to accommodate the needs of children who could not attend the day school. It met three days a week from 4 o'clock to 6 o'clock. This successful extension of Koraes has educated thousands of youngsters throughout the years in Greek language studies.

In 1937, seventh and eighth grades were added and the curriculum was reorganized and departmentalized to follow similar trends in the public schools. English became the primary vehicle for instruction. Then, during the 1960s the community established a full day kindergarten.

In the 2007-2008 school year a preschool was added on to the core offerings for three and four year old children. The core of the curriculum for the newest addition was (and still is) based on the Illinois Early Learning Standards supported by the Common Core State Standards and focuses on developmentally appropriate activities suited to the needs of each child.

Today, Koraes Elementary School is still patterned after the same principles and ideals as it was when it opened. It is committed toward academic excellence. This strong academic foundation enables the majority of Koraes graduates to perform well academically to pursue higher educational goals. Education represents the cornerstone of our faith and Koraes Elementary School stands as the Community of SS. Constantine's living legacy.


Koraes Elementary School operates in a 30,000 sq ft. building campus attached to Sts. Constantine and Helen Greek Orthodox Church.
Its facilities include:

Preschool classroom with an enclosed playground and a bathroom in the classroom
1 kindergarten classroom
1 Greek classroom
1 art room/maker space classroom
1 science lab
1 computer lab
1 collegiate size gymnasium

Each grade level has its own classroom

The school also has athletic fields adjacent to the school.